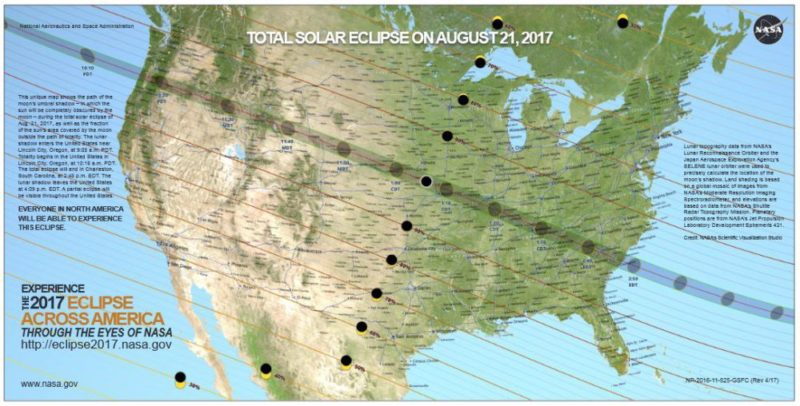 Understanding the Solar Eclipse:
By now, you have likely heard of the solar eclipse that will be occurring on Monday, August 21. For those of you that do not know what a total solar eclipse is, let us explain. On Monday, the moon will pass between the Earth and the sun, completely covering the sun's rays. For those living in the United States, it will be darkness during the middle of the day. It will begin on the West Coast around 10:30 PDT (1:20 EST) and conclude on the East Coast at 11:50 PDT (2:50 EST). Anyone along the path from Oregon to South Carolina will be able to witness the eclipse. According to NASA, the last time the entire U.S. saw exposed to a total eclipse was in 1979. To learn more and to see eclipse maps, visit NASA's website.
According to Quartz, in addition to an increased number of travelers gearing up to experience this occurrence, nearly 200 million people live in close proximity to the eclipse's path. Due to this rare siting, interstate congestion is expected to be atrocious. Many states are already warning truckers to be cautious and plan ahead in their routes, because traffic jams will likely occur.
How will this Affect Truckers:
Several states and trucking companies have adjusted their freight schedules to avoid to inevitable traffic jams. Trucking companies are encouraging truck drivers to take alternate routes to avoid congested areas during the Monday solar eclipse. If there is not leeway along your suggested route and you must travel through these areas, make sure to have a full tank of gas and extra food because you could be sitting for a significant period of time.
According to Transport Topics, many state officials are telling drivers not to stop on interstates to watch the eclipse. Truckers should also note that Oregon is prohibiting truck drivers with extra-wide loads from traveling from August 18-22.
Please continue to stay alert and in contact with your carrier for regular updates on the solar eclipse. Plan for potential traffic congestion whether you are in the eclipse's path or not, but also remember to enjoy this siting. Stay smart, and be SAFE!
Interested in becoming a truck driver? Diesel Driving Academy offers Class A CDL Training in Louisiana and Arkansas. DDA campuses are located in Shreveport, Baton Rouge and Little Rock. Check out our locations to learn more!